Probably one of the more popular inhabitants of my nano reef – and undoubtably my own personal favorite crustacean – is "Percy" the porcelain or anemone crab. His cool name, looks and peaceful character make him very loveable, but what do we know about the porcelain crab? Let's take a closer look.
Friendly dwarf with a badass appearance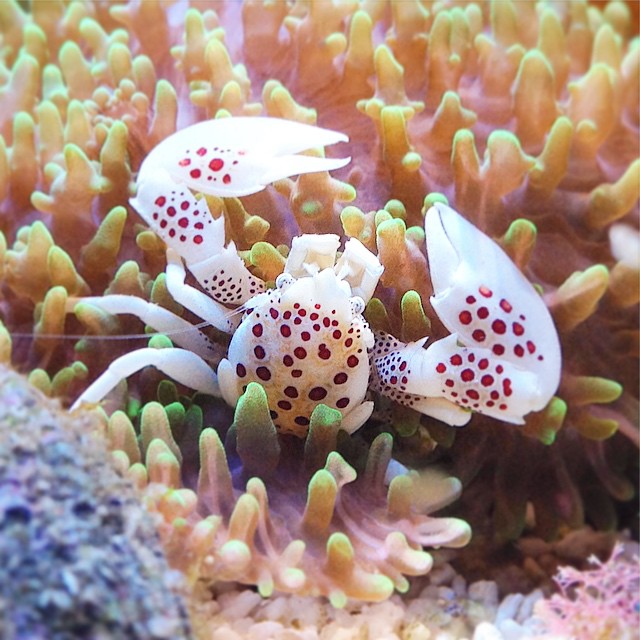 With a maximum body width of about 3 cm or 1 inch, it's a perfect critter to have in your nano reef tank, not only because of their small size, but also because of their very peaceful temperament. Although they look quite threatening with their badass claws, they only use them to fend of intruders.
In fact, the "porcelain" in their name stands for the fact that they often shed their limbs when feeling threatened. Some time ago, I noticed Percy was missing his right claw, but after 2 molts (not even a month) he already had his full grown claw back… nature is amazing!
They mostly live in pairs and will rarely leave the comfort of their home, which – as its name suggests – is in most cases an anemone. But do not despair, if you're not a fan of anemones, they are also known to host Hairy Mushrooms (Rhodactis Indosinensis) as mine is doing for over 2 years now.
The crab that's not really a crab
You read that right. Notice I mentioned "crustacean" above and not "crab". That's because in theory, the porcelain crab is not a real crab. It resembles a crab, but is much closer related to the squat lobster, so the back part is curled up under its body.
Their body has a flatened shape so they can thrive in tight spaces, it also allows them to easily make their way under and between rocks. (nano reef FTW!)
Another clue to differentiate it from a real crab is the fact they only have 3 visible pairs of legs instead of 4. Well, the 4th pair is there, but you will only see it when they feel like grooming themselves. Just take a look at the video below… yup, they 've got style! 🙂
Filter feeder with a pinch of carnivore
Porcelain crabs are know to be filter feeders, which means they filter food for plankton in a very elegant way. They have an extra pair of fan-shaped arms for this which they constantly hold up against the flow.
As our tanks aren't always the richest source of plankton, you can feed them with for example Reef-Roids but they will also accept larger portions like shrimps or pieces of fish.
Just wondering about the dots
Something I've noticed with Percy but I can't find any info online about it… It seems the older Percy gets, the more dots appear on his body. I could be wrong about this, so if you know what's the deal with that or you have some questions, leave some comments below and I'll get back to you as soon as possible.
Cheers!